Claim your
bunq deal
Experience 2 months of the best that Flow and bunq have to offer for FREE. Automatic payments in the background with real IBAN budgetting accounts.
Your promo code
BUNQ12ABOZ4
Hoe activeer je deze Deal
1. Download de Flow app
2. Voer de code in op de Profiel tab
3. Klaar! Geniet van 2 maanden gratis Flow+
5 things we love about
Flow+
bunq
1
Real jars
To manage your money
With bunq you can create up to 25 real IBAN accounts to budget, save and spend money from. For one monthly fee.
2
Automatic payments
In the background
bunq supports automatic payments within your own account. Create an autopilot for your money with Flow.
3
Realtime triggers
Fast as lighting
Flow receives realtime triggers from bunq. Your Flows will trigger instantly.
4
Intelligent rules
That fuel your money system
With Flow+ you can divide your money however you want, use percentages, create multi-level Flows, decide if you want to manually approve or automatically divide your money.
5
Use Apple Pay
Handsfree paying
With bunq you can choose from payment cards, virtual cards and even Apple Pay to pay from any of the sub-accounts you made.
Jouw geld
Jouw regels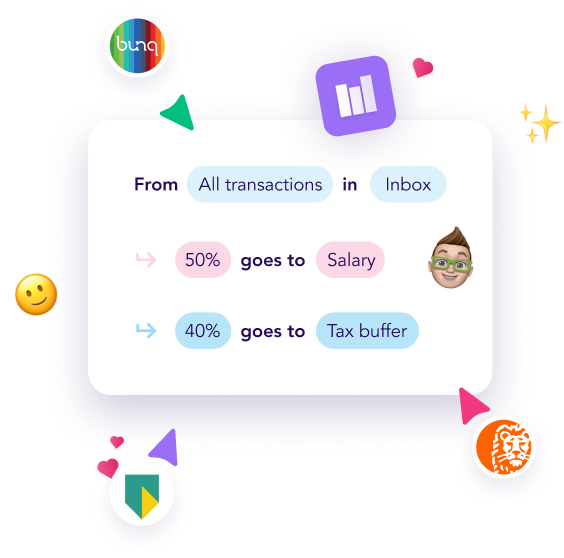 Doe meer met je geld
Verdeel je geld zodra het binnen komt, vul budgetten aan, bouw spaargeld op en nog veel meer in de toekomst: investeringsrekeningen koppelen, betaal een rekening wanneer het salaris binnenkomt, blijf op de hoogte!
Begin vandaag met het automatiseren van je geld
Start met Flow en claim
2 maanden Flow+ gratis
Beschikbaar op Android en iOS